Earn Your Credential - Here's How It Works
Receive Recognition of Your 3 E's (Education, Experiences and Exam) in M&A
 

 
The M&A Leadership Council began issuing Certified M&A Specialist credentials on January 1, 2016.  Attendees of Council training programs from 2013 to present have already earned credits toward their CMAS certification. So don't delay and start earning your CMAS credits TODAY.
---
Pursue Your Certification by Becoming an Active Candidate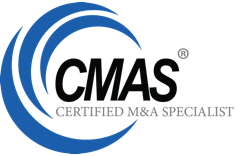 Every active candidate must complete each element of the THREE E's of the CMAS Certification: Education, Experience and Exam. Candidates must accrue at least 200 credits by taking M&A Leadership Council training courses, which allow 72 credits per in-person course or 30 credits per M&A DirectSM online course; prior attendees of programs presented in 2013-2015 will receive from 15-72 credits, depending on year taken and course topic. Candidates must also complete at least two Experience Submission Forms, earning from 25 to 100 credits each. Each Experience should focus on a completed, publicly documented transaction. Once the credits are earned, a candidate is eligible to take the Fundamentals Exam; passing candidates are awarded their certificates as Certified M&A Specialists. Those who need to retake the exam may do so for an additional fee.
All active candidates for certification will receive the materials required to complete CMAS certification (payment may be made by check or invoice, and book(s) will be shipped when payment is received), and are eligible for extra training discounts.
Already an Active Candidate?
Login
Sample Paths to Certification


Effective 9/21/2020
Sample Path #1
Sample Path #2
Sample Path #3
Item
Credits
Item
Credits
Item
Credits
Art of M&A Integration
72
Art of M&A for HR Leaders
72

Art of M&A Program Management
Online with M&A Direct

30
Art of M&A Due Diligence
72
Art of M&A Integration
Online with M&A Direct
30
Art of M&A Integration
Online with M&A Direct
30
Experience Form #1
50
Experience Form #1
75
Art of M&A IT Effectiveness
Online with M&A Direct
30
Experience Form #2
25
Experience Form #2
25
Experience Form #1
50
 
 
 
 
Experience Form #2
38
 
 
 
 
Experience Form #3
28
TOTAL CREDITS
219
TOTAL CREDITS
202
TOTAL CREDITS
203
The basic fee to launch your certification is $750 and includes: 
M&A LIBRARY:  Candidates will receive our newest book, The Art of M&A, 5th Edition (either Kindle version or hardcover), this book will enable you to pass the Fundamentals Exam. 
WORKSHOP DISCOUNTS:  All active CMAS candidates will receive a 30% discount on all M&A Leadership Council public workshops (NOTE: the discount on a 2-day course will offset the Standard Price for starting your certification; the discount for a 3-day course will more than offset the total cost of certification (basic fee plus exam charge)
EXPERIENCE SUBMISSION(S):  Experience Submission Forms will detail an M&A initiative in which you've participated, a minimum of two initiatives must be completed.  These forms will be reviewed and scored by the M&A Leadership Council, and will each add between 25-100 credits toward your certification.  You will receive a sample Experience Form as well as a Planning Guide.
M&A COMPETENCIES TRAINING BOOK: from the Board of M&A Standards.  This book defines the knowledge, skills, attributes and behaviors required to drive excellence in M&A activities. This Framework includes the identification of 13 Competencies that are applied across 4 roles within the M&A practice. The Competencies are a means by which organizations can articulate a common understanding of what is required, evaluated and rewarded. The Framework also guides organizations with planning, recruitment, performance management and talent development.
TRACKING & LOG-IN CREDENTIALS:  A personalized dashboard will allow you to track your progress toward certification.  Your earned CMAS credentials will give you access our exclusive compilation of Experience Submissions (case studies), which include M&A best practices, project objectives, nuances, outcomes, and key learnings
After accruing 200 credits, you will be eligible to take your Fundamentals Exam, which is $250:
FUNDAMENTALS EXAM:  A timed (72 hours allowed), open-book exam is your final requirement for certification.  Once you've reviewed the content in your M&A Library, you will log in to take a 60-question fundamentals exam. Exam participants may work through the test in one sitting or complete it partially and return to it periodically until completed.  Our goal is for you to learn the material, not disqualify you.  A passing grade of 70% will entitle the candidate to become a Certified M&A Specialist.  Additional exams, if needed, will require an additional fee of $100.  You may request sample questions and study guide will be provided.
---

STEP 1: EDUCATION - Complete Your Course Work
Candidates begin their course of study by attending the various M&A Leadership Council training courses; these are sanctioned by the Board of M&A Standards
Credits are awarded for each hour of attendance at these programs
See the full calendar of upcoming workshops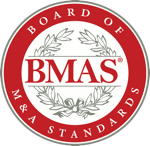 ---

STEP 2: EXPERIENCE - Submit Your M&A Experience Documents
Candidates build on the knowledge and insights gained from "The Art of M&A" courses
The documentation of real-world experience confirms a candidate's qualification for certification; at least one Experience Submission Form will be completed by the candidate and evaluated by the M&A Leadership Council
Credits awarded will range from 25 to 100 per Initiative; your submission(s) will be evaluated on deal size and type/complexity; duration of your experience in your role; how instrumental you were to the success of the deal; any innovations contributed and/or new learnings that were gleaned as a result of the experience
---

STEP 3: EXAM - Pass the Fundamentals Exam
Once a minimum of 200 credits have been accumulated through education and experience, a candidate is eligible to take an online exam
Information in the exam is based on the contents of the M&A Library provided to all active candidates
The exam is a rigorous test of 60 questions, rooted in the fundamentals of M&A Strategy, Due Diligence and Integration
---
When You Become a CMAS Specialist, the Council Will:
Present you with a Certified M&A Specialist certificate
Supply a customizable press release to publish on your own or via your company's publicity channels
Provide you with a CMAS email signature badge
Grant you access to the M&A Leadership compilation of CMAS case studies and best practices
---
Have more questions? See the CMAS Program FAQ or send us an email for more information - [email protected]